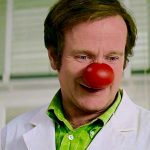 The third and final post in a series on the value of learning how to better 'connect' with people…
Patch Adams is a favorite and very moving movie.  Robin Williams did an outstanding job in portraying the true story about an amazing doctor.  And he was phenomenal in demonstrating our third secret about connecting with people… you have to create an experience.
Over the past three weeks I have focused on the importance of building relationships and connecting with people in order to be more successful in life and business.
We are looking at the principles found in John Maxwell's 'Everyone Communicates Few Connect.'  John says that connecting with people goes beyond just communicating.  It is important to identify and relate to people in a special way, which helps increase our influence with them.
So, here is my take on secret #3:
Be memorable and create an experience.  
You have to be interesting and not boring – boring people get tuned out. Know your listeners. Step into their world, speak their language and tell stories.  People remember stories much longer than abstract ideas.  Remember, never tell a story without making a point and never make a point without telling a story.  In order to better connect with people, create an experience.
If you would like to make these "connection secrets" available to your team I encourage you to connect with me today or pick up a copy of 'Everyone Communicates Few Connect.'
Do you create a Patch Adams experience with your people?  If so, that experience will make you memorable and, most importantly, will help you to better connect with people.
###