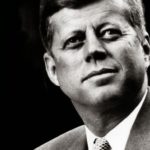 I will never forget that day, Friday, November 22, 1963.  It was 53 years ago at 12:30 pm, when the president of the United States was shot in Dallas, TX.
President John F Kennedy, was shot in the West End district and lived only 30 minutes after that incident.  Our country was in shock.
Almost everyone alive can recall that day.  For me it was a day "frozen-in-time."  For you, your frozen event might be the day the Challenger exploded, or the 9-11 terrorists attacks.  In each case I bet you remember exactly where you were, what you were doing and who you were doing it with.
For my dad, his frozen moment was the bombing of Pearl Harbor when he was nine years old.  I too was nine when Kennedy was shot.
I was in the 4th grade and I remember right after lunch time when the lady from the office came to my classroom and told us we needed to go to the Spanish room to watch Walter Cronkite on TV.  The girls and the teachers cried.  We were sent home early and schools were closed the following entire Thanksgiving week.  When I got home, my mom was sitting on the living room floor crying in front of the TV.
My wife remembers that day as well and she was only three.  Walter Cronkite interrupted "As the World Turns" as she was sitting at the table eating her lunch.
For our country, it was the most traumatic and shocking wake-up call since the assassination of Lincoln.  Some say it was the end of our country's innocence, the end of a Camelot story.  And with the Vietnam War escalating, times would continue to be tough for our country during the 60's.
America though is an amazing country.  Every time we are dealt a blow, we re-group and come back stronger.  Think about it.  After every disaster or tragedy, we come back stronger.  For that I am thankful.
With Thanksgiving this week it is a perfect time to pause, reflect and give prayers of thanks for our many blessings.  We live in the greatest country in the world and sometimes I take for granted how blessed we are.
This week take a moment to hug your kids and grandkids. Tell your loved ones how much you care about them. Let's all be thankful as we enjoy time with families this Thanksgiving holiday!
###