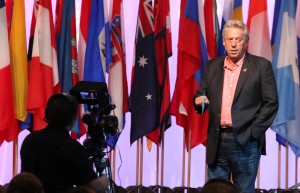 Are you ready for a different kind of leadership experience?
I invite you to attend Live -2-Lead, a live simulcast hosted by John Maxwell on October 9th broadcast to hundreds of sites across the globe.  This live half-day event originates in Atlanta, GA featuring global leadership experts.  To find an local Live-2-Lead site in your area visit www.l2l.johnmaxwell.com.
The Eastern Iowa L2L event will be held at the Mount Mercy Graduate Center in Cedar Rapids, from 7-11:30 am, followed by a Think Tank Luncheon. You will network and learn from local leaders and other community members who desire to become better leaders in Cedar Rapids and eastern Iowa.
Meet the Live-2-Lead Speakers 
John C. Maxwell – speaking on "Intentional Living"
"When you intentionally use your influence every day to bring about positive change in the lives of others, you achieve significance."
John C. Maxwell, the #1 New York Times bestselling author, coach, and speaker who has sold more than 25 million books, was identified as the #1 leader in business by the American Management Association® and the world's most influential leadership expert by Business Insider and Inc. magazine in 2014. In that year Dr. Maxwell also received the Mother Teresa Prize for Global Peace and Leadership from the Luminary Leadership Network. His organizations—The John Maxwell Company, The John Maxwell Team, and EQUIP—have trained more than 5 million leaders in 188 countries.
Patrick Lencioni – speaking on "Organizational Health"
"Organizational health will one day surpass all other disciplines in business as the greatest opportunity for improvement and competitive advantage."
Patrick Lencioni is founder and president of The Table Group, a firm dedicated to providing organizations with ideas, products and services that improve teamwork, clarity and employee engagement. Lencioni's passion for organizations and teams is reflected in his writing, speaking and executive consulting. Pat is the author of ten best-selling books with nearly four million copies sold. After twelve years in print, his book The Five Dysfunctions of a Team remains a fixture on national best-seller lists. His most recent book, The Advantage: Why Organizational Health Trumps Everything Else in Business, became an immediate national best-seller.
Valorie Burton – speaking on "Getting Unstuck"
"Resilience doesn't mean you don't stumble or fall. It doesn't mean you don't take breaks or have a need to recuperate from failures and mistakes. It means that along your path, regardless of what happens, you do what it takes to recover, heal, rebuild, and move forward."
A bestselling author and Certified Personal and Executive Coach who has served clients in over 40 states and ten countries, Valorie Burton has written ten books on personal development, including Successful Women Think Differently, What's Really Holding You Back?, Happy Women Live Better and her latest, Get Unstuck, Be Unstoppable. She is the founder of The CaPP Institute, which provides tools and training that build resilience, well-being and productivity for life and work.
Kevin Turner – The COO of Microsoft, an interview with John C. Maxwell
As Microsoft's chief operating officer, Kevin Turner leads the company's global sales, marketing and services organization of more than 47,000 employees in more than 190 countries. Under his leadership, the sales and marketing group delivered more than $78.6 billion in revenue in fiscal 2013. Turner oversees worldwide sales, field marketing, services, support and partner channels as well Microsoft Stores and corporate support functions including Information Technology, Worldwide Licensing & Pricing and Operations. The sales and marketing organization is focused on delivering Microsoft's family of devices and services to customers and partners all over the world.
Why You Should Attend
The simulcast provides a unique experience for leaders in Cedar Rapids to come together and experience the expertise of great leadership inspiration as a community. You'll enjoy the company of other leaders, finding that inspiration comes from being around the best. There will be an optional lunch after the simulcast for further mingling about your takeaways and how to apply them to your everyday life.
Benefits:
Connect & Network with top leaders in our community.
Enrich your leadership by engaging the best in leadership inspiration.
Maximize your time with this half-day format.
VIP Package includes reserved seating, exclusive Think Tank, lunch and John C. Maxwell book.
Enjoy the company of other leaders and inspire one another while adding value to our Community
Registration is open at www.l2cr.net.  Bring your team and be prepared to grow in your leadership.
For more information on the Eastern Iowa Live-2-Lead simulcast, call David Drewelow at 319-743-0642 or email [email protected].